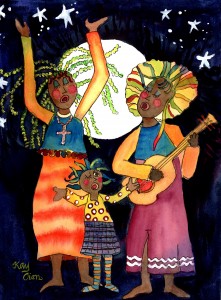 Ministries
We believe God has rich opportunities in ministry for all of us. We have several key ministry areas that would love to hear from you, if you are sensing a nudge to serve.
Let us know!
Missions
Our congregation contributes to our own community needs, as well as mission opportunities around the world. We regularly contribute to the local Family Pathways Food Shelf, and have started our own "A Brush With Kindness" organization.
Each month we designate the third Sunday as our Mission Sunday. On those Sundays, we collect a special offering to be given towards a specific mission.
Our 2013 Mission Sunday Schedule
Education
Our Children's Ministry
Directors are Laurie
Doughty and Lynne Wilkerson. They plan the lessons and find volunteers to teach Sunday School, which is held during the 9:00 church service. Children attend church with their parents, and are excused to attend Sunday School after the Children's Moment. Adult education is handled by Pastor Dan. He leads a Wednesday evening Adult Bible Study in the church lounge.
Women
There are currently three women's ministries at FUMC. Cindy Kopp leads a women's Bible study on Tuesday mornings, Hope Circle meets the 2nd Thursday of each month, and women of all ages meet the first Saturday evening of each month to "work on projects."
Men
FUMC men meet for coffee Tuesday mornings at Northwoods Roasterrie in Lindstrom. They begin when the first person gets there (7:00) and conclude when the last one leaves. Occasionally they have a Men's Breakfast.
Youth
Youth in grades six through twelve meet on Wednesdays from 6-8pm. Cheryl and Scott Lecy and Tammy and Jesse Figueroa are the youth leaders.
Music
We have an adult choir, a hand bell choir, and a worship team at FUMC.
We welcome new members to all groups!
Media/Technology
Wendy Vanderwerf formats and runs slides for our Sunday services. Greg Oien maintains our computer technology.
Intercessory Prayer
Sundays 10:30 am Meet in the Chapel.
Prayer Chain
If you would like a request for prayer to go out on
our Prayer Chain, please call Connie Buelow, 651-
465-3024, or Lois Anderson, 651-213-1036, or the
church office, 257-4306.
Would you like to be a part of the Prayer Chain?
Please call the church office for more information.
Hospitality
Another important area of service is preparing and serving treats during our Fellowship Coffee Hour after church every week. We love our visiting time, and enjoy the goodies that are shared at this time. This is when we celebrate birthdays and anniversaries, too.
Juanita Morgan is our Hospitality Coordinator. She also coordinates ushers, greeters, and communion servers.
If you would like to bring/serve treats and coffee, you may sign up at the table outside the Fellowship Hall.