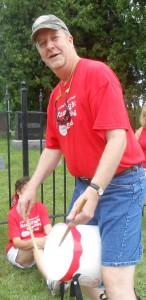 Pastor Dan Doughty
Pastor Dan Doughty has served at First United Methodist Church, Lindstrom since July 2008. Dan has served United Methodist churches in Minnesota since 1981, and served at Grace UMC, Pequot Lakes, MN. before coming to Lindstrom. He is a 1977 graduate of Bethel in St. Paul, MN, and a 1981 graduate of Asbury Seminary, Kentucky. Dan is an avid fisherman, a fan of hockey (especially the Wild) and auto racing. Dan and his wife, Laurie, reside in Lindstrom, Minnesota.
The Staff of FUMC, Lindstrom
The staff of First United Methodist Church is here to serve.Please feel free to contact the church office or any of us directly, if you feel we may be of any assistance to you.
Pastor Dan Doughty
Youth Directors Scott & Cheryl Lecy
Children's Ministries (K-5) Laurie Doughty
Choir Director Kay Oien
Administrative Secretary Carol Schmidt
Custodian Cheryl Hultquist